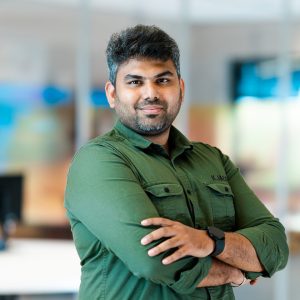 Naveen is a Senior Azure Consultant and DevOps Engineer at Devon NL, with a passion for learning and working on new technologies. He has helped numerous organizations with their cloud transformations and journeys.
With a background as a full-stack developer specializing in .NET stack and C#, Naveen has successfully transitioned into a cloud consultant, where he has worked on various domains such as IoT, web applications, big data, and MLOps. Additionally, he has played a key role as a Scrum Master in delivering successful projects.
Naveen's expertise lies in Azure technologies and DevOps practices, and he is constantly exploring new ways to optimize cloud solutions for his clients. He holds certifications in Azure and DevOps, and regularly attends industry events to stay up-to-date with the latest trends and advancements.
Overall, Naveen is a dedicated and skilled professional who is committed to delivering high-quality solutions to his clients, and is always eager to take on new challenges and opportunities in the ever-evolving world of cloud computing.
Top reviews of our trainings
Workshop type

Quality Code using SOLID principles

Nice variety of subjects

Masterclass Leading a DevOps Transformation

Practical examples

DevOps Foundation

Good practical examples

DevOps Foundation

Top master class! Learned a lot in a very short time

Masterclass Leading a DevOps Transformation

Knows ASR a little, knows how to place context

Azure AZ-900