Train the Trainer: Certified DevOps Professional
Become one of the first Certified DevOps Professional trainers!
Combine two days Certified DevOps Professional training with an additional Train the Trainer day.
15+ Years Experience




Learn from industry leaders

Official iSQI Certificate




Internationally recognized

Hands-On Approach




Immediately start applying your craft

Rated 8,4




Highly reviewed by other participants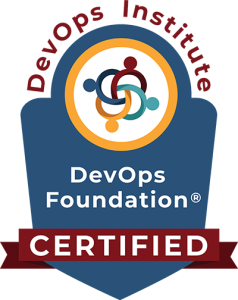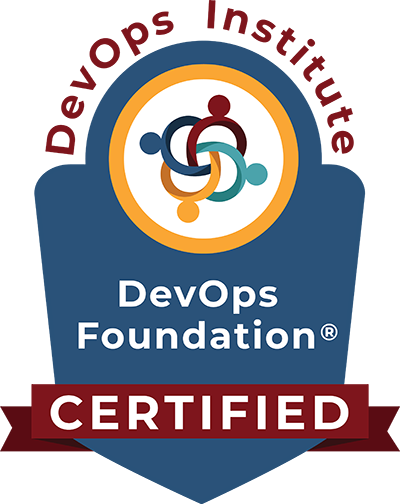 Applies to all Learning Journeys
Certified
Advanced
3 days
Lunch incl.
On this day, the master trainer will give you more background information about the training topics, about the tooling used and in addition to giving a further explanation of the exercises, alternative scenarios for answering the exercises are also discussed. Of course there is plenty of time to answer your questions. After this day you will be able to provide the training yourself.
Trainer accreditation through our partner iSQI
iSQI will guide you in the trainer accreditation process.  To become an accredited trainer, you must in any case:
Possess the Certified DevOps Professional certificate

In this unique three-day training, you'll take the exam at the end of the third day
Only after passing this exam, iSQI can continue the trainer accreditation process

Have followed the Certified DevOps Professional Train the Trainer day
Have proven training skills
Prerequisites for following the TTT
To participate in this unique three-day training, you must have proven training skills and possess the Certified DevOps Professional certificate.
However, since you can not take the exam yet, we'll ask you for demonstrable DevOps knowledge (proved by practical experience, certificates, training etc).
At the next TTT days, future trainers have to possess the Certified DevOps Professional certificate before they can register for the TTT day.

Hari Gurumoorthi
DevOps and Azure Architect, Principal Consultant at DevOn
Hari has expertise in Product Development, user experience (UX/UI), Business Intelligence and Analytics, and building data-driven solutions using Agile methodologies. He also has strong expertise in Business Development, Sales and Delivery with Clients across geographies and served in the US region for 7 years.
About the DevOps Professional Course
The two days Certified DevOps Professional training provides the breadth of knowledge and best practices currently applied by high performing organizations to build the software delivery and operational performance capability holistically. This tool-agnostic training helps to understand key challenges and drivers for DevOps adoption, principles, and practices to be used throughout the journey, and the capabilities that would remove the constraints and continuously improve the value delivery.
The training is based on the Accelerate book "The Science of Lean Software and DevOps: Building and Scaling High Performing Technology Organizations", which represents six years of research and data from over 31.000 professionals worldwide. It is the most extensive and longest-running research of its kind, providing an independent view into the practices and capabilities that drive high performance.
The training will give participants a highly interactive and collaborative environment to learn various DevOps concepts via practical exercises, games and simulations. The training content is delivered by a combination of liberating structures, case studies, group discussions and multi-media sources
Course objectives
This training covers
The purpose of DevOps
The mindset required for adopting DevOps
Challenges that impedes software delivery and performance
The capability domains required to start the DevOps journey
How to start and continuously improve DevOps capabilities
Skills required for successful implementation
Case studies from industry leaders
Course topics
At the end of this course, participants should be able to:
Understand the key drivers for DevOps
Comprehend the Impact of software delivery performance in organizational performance
Identify major bottlenecks in the software delivery
Appreciate the importance of psychological safety
Understand lean management principles
Understand architectural aspects for production first mindset
Understand continuous practices including CI/CD, DevSecOps and cloud adoption
Target audience
The target audience includes anyone who is working with DevOps or interested in it:
Development teams
DevOps engineers
Site reliability engineers
Testing and automation engineers
Infrastructure architects
Integration specialists
IT Operations
IT Directors and managers
Product owners, Scrum masters and, Agile and Lean coaches
Project managers
Release engineers
System administrators and engineers

Certification
Training and certification exam are offered as a package. This means the training includes one exam sitting. You will take the exam through our partner iSQI. The exam consists of 40 multiple choice questions, which have to be answered within an hour. To obtain the DevOps Professional certificate, you must demonstrate your knowledge by passing the exam with a score of 65% or higher (26 correct answers or more). After passing, iSQI will provide you with the certificate.
Train the trainer day
Become one of the first Certified DevOps Professional trainers!
Combined two days Certified DevOps Professional training with an additional Train the Trainer day. We can offer you this package for an introductory price of € 1.570,- (regular price: € 2.245,-).
Due to the special nature of this package, there is only room for eight future trainers. Register quickly, because full = full.
Top reviews of all trainings
Good concrete examples!

Quality Code using SOLID principles

Hands-on demo's really helped to understand concepts

Docker & Containerization

I was given a different (better) perspective on unit tests

TDD

Content

DevOps Foundation

Good variety of theory and assignments

DevOps Foundation

Top master class! Learned a lot in a very short time

Masterclass Leading a DevOps Transformation

Great overview of K8s with good examples

Kubernetes

Super good and inspiring training by the master himself!

Introduction to CD/DevOps by Jez Humble

Energy / clear

Masterclass Leading a DevOps Transformation
Payment methods




Need help?
Please contact us via email or call us by the number stated below. We are more than happy to help you.
+31 (0)15 - 241 19 00
academy@devon.nl
What's next for me?
Take a look at what trainings you should follow next to become a true expert in your field.
Train the Trainer: Certified DevOps Professional
3-days training

Advanced
(CDP)® Certified DevOps Professional
Certified DevOps Professional
2-days training

Intermediate
(CDP)® Certified DevOps Professional
SRE Foundation
2-days training

Intermediate
(SREF)℠ Site Reliability Engineer certificate
What if I book a date, but then have to reschedule?
After your registration has been confirmed, you are still able to change the date up to 20 days before the first day of the training. You are able to do this once. Please send your request to academy@devon.nl or call +31(0)15-24 11 900 for further assistance.
What if not enough people have signed up for the course?
Two weeks before each training, we will check if we have enough participants for the training course to be valuable and continue. If this is not the case, we will inform you by e-mail, with options for a new date and location. After this notification, you will have the right to cancel or change your registration within 5 working days.
On the website you can choose to pay via iDeal, creditcard or by invoice with a payment period of 30 days.
Which languages do you offer your courses in?
Most of our courses are available in both English and Dutch. We have a selection of training courses which are only available in English, which will be on that training page. Our rule of thumb for courses in the Netherlands is – the course is in English unless everybody speaks Dutch, then the course is in Dutch. If you want to be sure you are in a Dutch course, please get in touch with academy@devon.nl in case the information on a specific date is not available on the course page.
What do the costs include?
Unless mentioned otherwise, the course fee includes the cost of training material, exam cost, the use of the location, catering and parking.
Only one or two locations are visible. How is that possible?
When you click on the orange arrow, the menu will unfold further. More locations and dates might appear.
Is VAT included in the prices shown?
The costs that apply to our programs initiated from the Netherlands are exempt from sales tax as per Article 11-1-o of the 1968 Sales Tax Act. In other locations/countries, the prices shown are excluding VAT, which will be added.
Can I still register for the training?
Is the 'register' headline visible? This means you can register and attend the training. Does the headline say 'full'? Give us a call and we'll try and help you out!
What language is the course material in?
All course material for the open registrations is in English.
When will I receive my exam code?
If you are doing the PSD (Scrum.org) or one of the certified DevOps Institute trainings, you will receive your exam code on the final day of the training.
What is your payment term?
We have a payment term of up to 30 days
Not sure if this course is for you?