The AIOps Foundation course provides an understanding of the benefits of implementing AIOps, and the key steps to ensure the successful integration of AI. The course also gives an overview of how digital transformation and advancements in machine learning have led to the emergence of AIOps as an essential tool in today's IT operations.
15+ Years Experience




Learn from industry leaders

Official DevOps Institute Certificate




Internationally recognized

Hands-On Approach




Immediately start applying your craft

Rated 8,4




Highly reviewed by other participants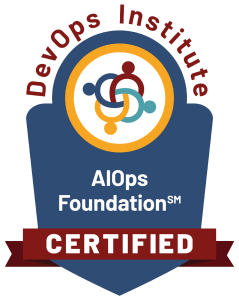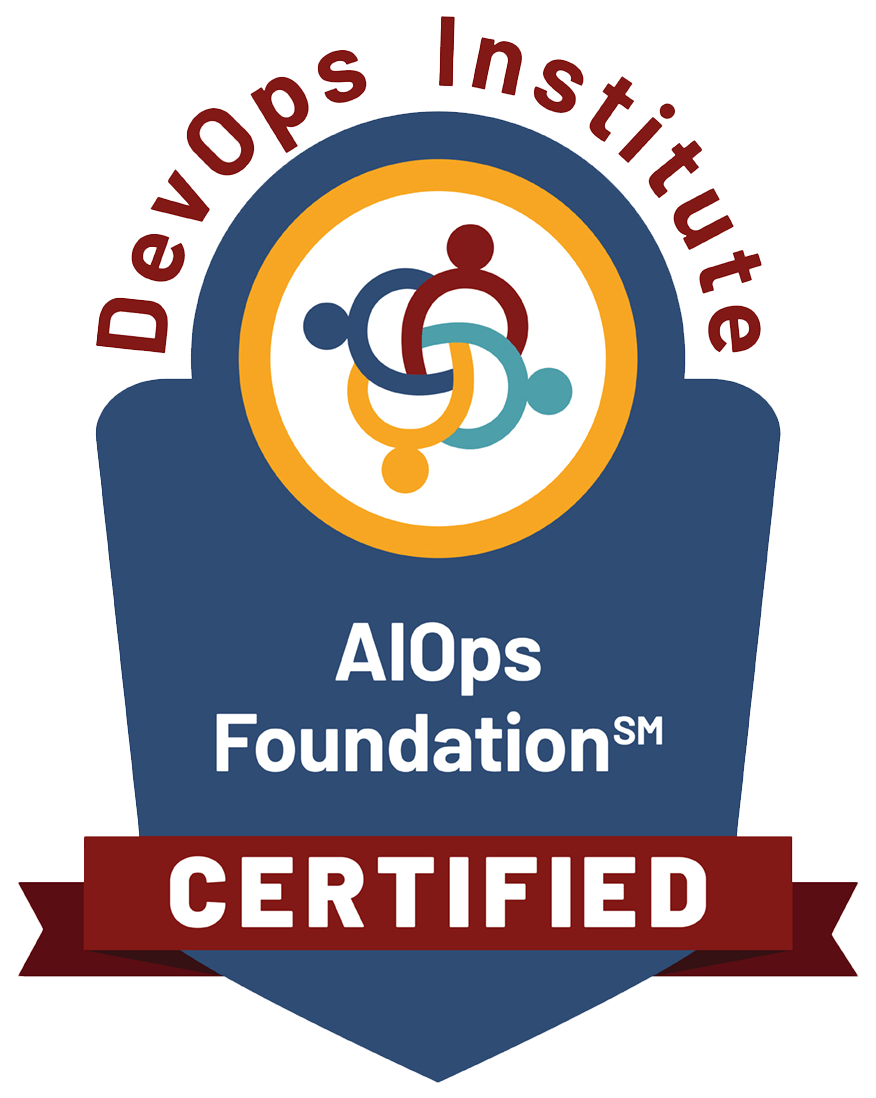 Applies to all Learning Journeys
Certified
Intermediate
2 days
09:00 - 17:00
Lunch incl.
The AIOps Foundation course provides a comprehensive understanding of AIOps, covering its origins, historical background, and technological integration. Participants gain insights into integrating big data analytics, machine learning algorithms, automation, and optimization into a single platform. Key principles, foundational concepts, and core technologies like big data and machine learning are explored.
The course highlights the impact of digital transformation on AIOps, enabling proactive IT operations management, real-time incident detection and mitigation, and data-driven decision-making. Practical examples and real-world use cases enhance participants' understanding of leveraging AIOps in their organizational contexts, improving operational efficiency, and unlocking IT infrastructure potential.
Upon completion, participants possess a comprehensive understanding of AIOps' role in modern IT operations, equipping them to drive innovation and improvement within their organizations.

Emir Modiri
DevOps Consultant
Emir Modiri is a certified IT professional and trainer with extensive experience in leadership, DevOps, and cloud engineering. He is proficient in a wide range of technologies, including AWS, GCP, Azure, Openstack, Docker, Kubernetes, and Terraform. Emir holds several prestigious certifications, including GCP Solutions Architect-Professional, AWS Certified Solutions Architect, and Docker and Container Technologies.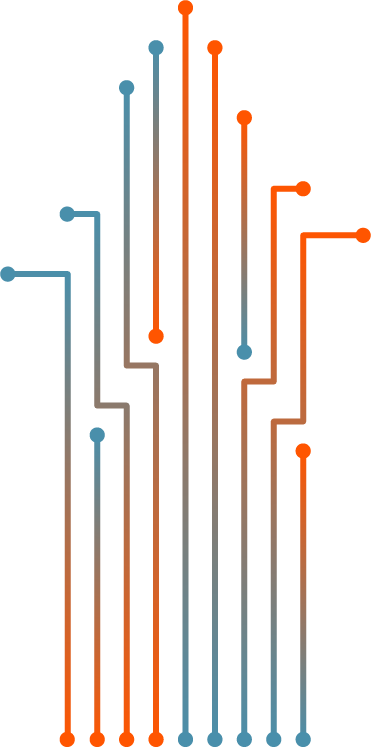 Course objectives
The learning objectives for AIOps Foundation include an understanding of:
A clear understanding of the history, origins, and current developments of AIOps
Define and comprehend basic concepts and key principles within AIOps
Understand general concepts of big data and artificial intelligence, and how they relate to AIOps
Recognize the relationship between AIOps and MLOps
Understand the effectiveness of AIOps deployment and possible benefits
Understand the changes in mindset, collaboration, and skills for AIOps to be applied in the organization
Quantify outcomes of an AIOps implementation leveraging industry-standard metrics
Understand the usual challenges and opportunities of applying AIOps in the organization
Visualize the challenges, trends, and ethical considerations organizations might face while deploying an AIOps initiative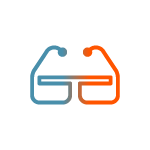 Course topics
AIOps Foundation
AIOps in the Organization
Core Technologies: Data
Core Technologies: Machine Learning
AIOps and Operations Metrics
AIOps Use Cases and Organizational Mindset
Evaluating AIOps Impact
Implementing AIOps in the Organization
Target audience
The target audience for the AIOps Foundation course includes roles such as:
Anyone focused on IT Operations and modern-day software
AIOps Architects and Engineers
Business Managers, IT managers, IT directors, IT Team Leaders
Cloud Engineers
Data Engineers and Scientists
DevOps Engineers and Practitioners
IT Security Analysts
Product Owners
Scrum Masters
Software Engineers
Site Reliability Engineers
System Integrators
AIOps Platform and Tool Providers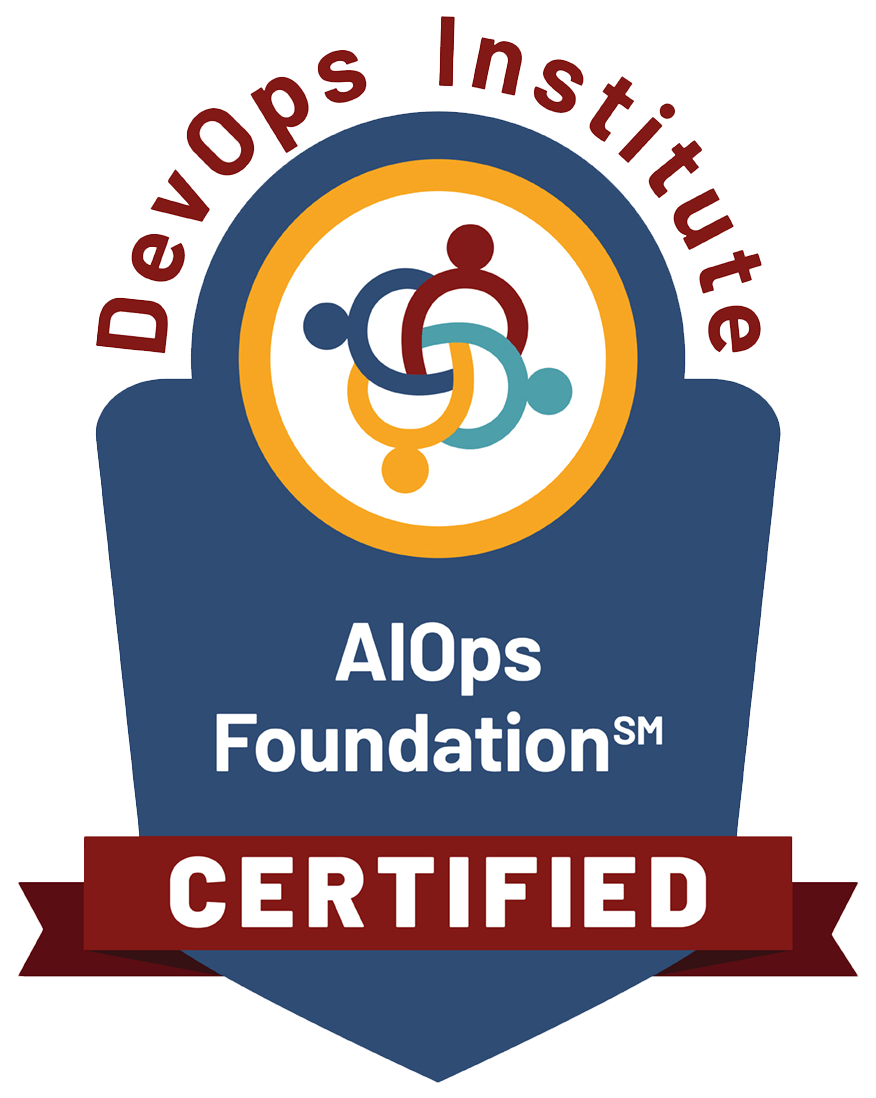 Certification
Successfully passing (65%) the 60-minute examination, consisting of 40 multiple-choice questions, leads to the AIOps Foundation Certificate. The certification is governed and maintained by the DevOps Institute, a member of the PeopleCert Group.
Top reviews of this training
Good information structure

DevOps Foundation

Practical and space for questions and challenges

DevOps Foundation

Logical story

DevOps Foundation

Good practical examples

DevOps Foundation

Lots of room for discussions

DevOps Foundation

The trainer is very knowledgeable, enthusiastic and can explain everything

DevOps Foundation

Nice to listen to and a nice interactive setting

DevOps Foundation

Interactive and focused

DevOps Foundation

Valuable!

DevOps Foundation
Payment methods




Need help?
Please contact us via email or call us by the number stated below. We are more than happy to help you.
+31 (0)15 - 241 19 00
academy@devon.nl
What's next for me?
Take a look at what trainings you should follow next to become a true expert in your field.
SRE Foundation
2-days training

Intermediate
(SREF)℠ Site Reliability Engineer certificate
Cloud Deployment and Migration
2-days training

Beginner
What if I book a date, but then have to reschedule?
After your registration has been confirmed, you are still able to change the date up to 20 days before the first day of the training. You are able to do this once. Please send your request to academy@devon.nl or call +31(0)15-24 11 900 for further assistance.
What if not enough people have signed up for the course?
Two weeks before each training, we will check if we have enough participants for the training course to be valuable and continue. If this is not the case, we will inform you by e-mail, with options for a new date and location. After this notification, you will have the right to cancel or change your registration within 5 working days.
On the website you can choose to pay via iDeal, creditcard or by invoice with a payment period of 30 days.
Which languages do you offer your courses in?
Most of our courses are available in both English and Dutch. We have a selection of training courses which are only available in English, which will be on that training page. Our rule of thumb for courses in the Netherlands is – the course is in English unless everybody speaks Dutch, then the course is in Dutch. If you want to be sure you are in a Dutch course, please get in touch with academy@devon.nl in case the information on a specific date is not available on the course page.
What do the costs include?
Unless mentioned otherwise, the course fee includes the cost of training material, exam cost, the use of the location, catering and parking.
Only one or two locations are visible. How is that possible?
When you click on the orange arrow, the menu will unfold further. More locations and dates might appear.
Is VAT included in the prices shown?
The costs that apply to our programs initiated from the Netherlands are exempt from sales tax as per Article 11-1-o of the 1968 Sales Tax Act. In other locations/countries, the prices shown are excluding VAT, which will be added.
Can I still register for the training?
Is the 'register' headline visible? This means you can register and attend the training. Does the headline say 'full'? Give us a call and we'll try and help you out!
What language is the course material in?
All course material for the open registrations is in English.
When will I receive my exam code?
If you are doing the PSD (Scrum.org) or one of the certified DevOps Institute trainings, you will receive your exam code on the final day of the training.
What is your payment term?
We have a payment term of up to 30 days
Not sure if this course is for you?