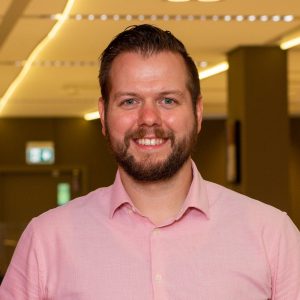 Kevin Boots is a DevOps and CI/CD consultant with DevOps leadership experience.
Coming from an Operations background, he soon after got welcomed to the world of development and high-performance software delivery, climbing the ranks to become an energetic tech/teamlead. He has previously led teams in the domains of CI/CD Enablement and Public Cloud usage (Azure).
Kevin loves nothing more than helping others achieve improvements in their way of working, with a focus on automation, scripting, collaboration tooling and process improvement through use of DevOps & Lean principles. But more than anything: Kevin aims to put a smile on the face of everyone involved with software delivery, from business to security and from development to operations.
He is a capable Python developer, able to use and coach on the usage of concepts like Pair/Mob programming, Test-Driven development, continuous integration and delivery and more. He likes to combine these skills with cloud-native setups/architectures to get the most bang for a clients' buck. With plenty experience putting these skills to use to help create a Compliance Automation platform for large financial institutions, bridging the gap from Risk professionals to IT and back, he can help simplify & automate IT control burden across companies.
Kevin is also a certified DevOps Institute trainer, able to train participants in preparation for official exams in the areas of DevOps Essentials / Professional / Foundation and more.
Specialties:
DevOps & CI/CD implementations, Compliance Automation, Python and Cloud-native related projects, applying Lean, leading teams
Top reviews of our trainings
Its a combo of high over and technical

Masterclass Dave Farley

Discussions were amazing

DevOps Foundation

Interactive and focused

DevOps Foundation

Nice variety of subjects

Masterclass Leading a DevOps Transformation

Enthusiastic, passionate, brings everything nicely

Azure AZ-900

Good information structure

DevOps Foundation