Virtual Classrooms
Upgrade your DevOps skills from any location!
From now on, DevOn offers virtual classrooms. This means that the training courses can now also be attended digitally!
15+ Years Experience




Remote collaborations

Hands-On Approach


Immediately start applying your craft

Customer Rating 8.9


Highly reviewed by other participants

Certified Partnership


Trainings from the ISQI™, DevOps Institute™ (DOI) & Scrum.Org™
Digital Learning
As a Partner of the DevOps Institute, Partner in Principle of Scrum.org, and DevOps Portfolio partner of iSQI, we are one of the first to offer a virtual training format while maintaining the same quality.
We understand better than anyone that the measures regarding the Coronavirus (COVID-19) affect your flexibility to develop DevOps skills. By offering this new format, we offer you the opportunity to keep growing.
Boosting your DevOps skills online
!
This means that you can follow the physical training via a digital platform. As of today, it is possible to register for the virtual classrooms, Including certified trainings from the DevOps Institute (DOI) and Scrum.org.
Please contact us with regard to the preparation of the virtual classes.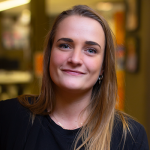 Lisa Spruit
Our virtual classroom specialist
QUESTIONS? POSSIBILITIES?
+31 (0)15 – 241 1900
Call us, chat, or submit a call back request for more information about the (virtual classroom) training or a tailored training solution.
Top reviews of our trainings
Changing the mindset in the right direction

Good enthusiastic storyteller

Masterclass Leading a DevOps Transformation

Practical and space for questions and challenges

DevOps Foundation

Content

DevOps Foundation

Practical examples

DevOps Foundation

Good content between theory and practice

Quality Code using SOLID principles